MUSIC

HOME-TSARITSINO

ABOUT SASHA

MOSCOW

VALAAM

KIZHI
VOLGA RIVER


AMUR RIVER

ZEYA
VALAAM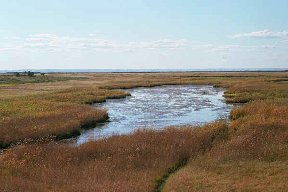 The beautiful Muraviovka Park Crane Preserve
The park, in Russia's Amurskaya Region (Russian Far East), near the Amur River across from China, is the first non-governmentally managed protected territory in Russia. Each summer, school children and teachers come from Russian and American cities to gain understanding of sustainable land use and how to work together to save cranes and other migratory birds. This is a worthwhile project to support, and if you care to learn more or to donate, click here for their web page.
Below is the headquarters of Muraviovka Park, where students and teachers share food, sleep and take some classes. Note garden. This is September.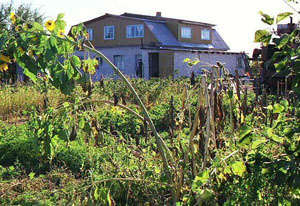 The Amur River is in the Russian Far East and is also called the Black Dragon River. Along much of its waterway, it forms the border between Russia and China. It is 2,744 miles in length and is the sixth-longest river in the world.

I visited the Amur River in 1998 when I traveled to Blagoveshchensk, a large Russian city which is across the Amur River from the Chinese city of Heihe. I traveled to this Amur Region by flying to the city of Khabarovsk from Alaska, then boarding the Trans-Siberian Railroad for an overnight trip (17 hours) to Blagoveshchensk.
My travel group was made up of myself and three other people who were members of the Baker City, Oregon Sister City organization. We were on our way to their sister city, Zeya, which was close to Blagoveshchensk. While on the Amur River in "Blago", I stayed in the Jubilee Hotel. I could see the buildings of the Chinese city from my window. While in Blago, we visited museums, educational institutions, businesses, artists, a Rotary club meeting, and best of all, the Muraviovka Crane Preserve, where we had a wonderful Russian-style barbecue and marveled at the wildlife and the gardens. This crane preserve works closely with its American counterpart based in Wisconsin. I wrote about this preserve when I came back to the US. Click here for detail.