MUSIC

HOME

ABOUT SASHA

MOSCOW

VALAAM

KIZHI

FOOD

GOLDEN RING
VOLGA RIVER


AMUR RIVER

ZEYA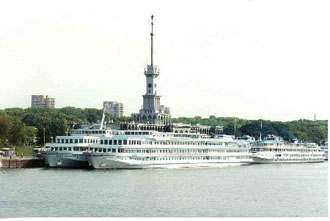 Volga River ships docked at Rechnoi Vokhzal, Moscow's north river port. This is the end or the beginning of the line when it comes to Volga River trips by ship. Actually, the Volga-Baltic canal, dug mostly by hand, connects the Moscow River to the Volga River. Remember the song
"The Volga Boatman"? Perilous work!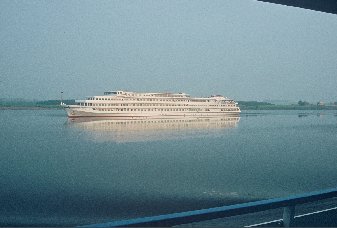 The ship sails in smooth and silky water in the early summer morning along the Volga. A typical scene on the Volga waterways in Summer. I took this photo from our ship, a twin to the one pictured. At times the river was very wide, and at other times, narrow. In some places, when we were going through the numerous locks along the river,
the ship barely fit. Click on the photo see an enlargement, it's a great scene!
THE MIGHTY VOLGA RIVER! Songs have been written about it, authors have built stories around it, and wars have been fought on it, in it and for it.
The mighty Volga arises in the Volga Hills north of Moscow, and continues in a great swooping arch to the Caspian Sea. Along its journey, ships pass farms with lush gardens and animals, forests, villages, cities and churches of all sizes. So many trees! Also along the way, one sees the signs of an impoverished economy. Factories shut down, empty buildings, decrepit apartment houses.


Stopping at little villages along the way gave us a chance to be invited into the little dachas and gardens of local Russians, who welcomed us.


The Volga flows 2,300 miles from its source in the Valdai Hills north of Moscow to the Caspian Sea (
through Nizhny Novgorod
). It is the largest river system of Europe. All but about 200 miles is navigable. The Volga, besides being used for crop irrigation, is also extremely important to the commercial shipping of lumber and many other commodities. We also saw many petrol boats, probably used to fuel the ships. There is a great deal of activity on the Volga, all day and through the night. Our ship had a schedule it had to meet as to when it could pass through the locks (used to go around dams), and that would often be in the middle of the night. We were often jarred awake when the ship would bump against the sides of the lock as it filled or emptied with water.