MUSIC

HOME

ABOUT SASHA

MOSCOW

VALAAM

KIZHI
VOLGA RIVER


AMUR RIVER

ZEYA
VALAAM
NESTING DOLL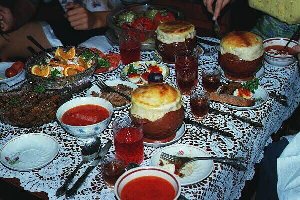 MEMORABLE DISHES IN RUSSIA
"Russian Cuisine" seems like an oxymoron, but in my experience, it is not. Restaurant food was less than stellar, but all my in-home dishes were superb, even gourmet, and most often contained the very freshest of ingredients from local farmers or from my hosts' dacha garden. My hosts were mostly professionals, had dachas, and could afford to buy good produce and meat. (Many, many Russians subsist on a very poor diet, having neither a dacha nor money to purchase anything but the most basic of ingredients.) Shown above, the most beautiful presentation was made by Nadezhda, a very busy Russian businesswoman in Zeya, in the Russian Far East. (Nadezhda designed and made clothing and fur hats for women.) We also visited a dairy near Zeya in the Russian Far East, and feasted upon fresh sour cream (not like our sour cream, but much more smooth and creamy) and freshly picked cowberries (aka lingonberries) which grow wild on the surrounding Taiga.



RUSSIA: AN ENIGMA? AN ESSAY



A FAVORITE RECIPE IS SHASHLIK, A MARINATED AND GRILLED LAMB KABOB DISH. Below is a recipe passed down to Julie, my daughter, by her Russian grandmother. Shashlik is especially popular in Georgia, which is no longer a part of Russia. It's also served all over Russia, mostly in summer. I first tasted Shashlik in California's central valley, where there are many Russian immigrant farmers, now second and third generations:
SHASHLIK:
8 lbs lamb leg, cut into 1 1/2 in cubes
1/2 dozen lemons
6 large onions
2 Tbsp salt
pepper to taste (optional)Season meat with salt and pepper. Add sliced onion. Squeeze lemons over meat and onions, and leave the lemon rind for marinating. Best to marinate overnight. Put one layer of meat in a pan. Sprinkle each of the ingredients over the top, turn meat over and sprinkle the other side. Then put a layer of chopped onion on top. Cut lemons in half and squeeze juice over lamb. Add another layer of meat and seasoning. Continue until all meat is used. This is best if allowed to marinate overnight. Stir up the meat with seasoning 3 or 4 times during the marinating to season evenly. Put on skewers and barbecue over charcoal or hardwood coals. Keep tight on skewers to avoid drying.
Shashlik is most often served at a relaxed joyous affair, like weddings!