VOLGA RIVER


AMUR RIVER

ZEYA
VALAAM
NESTING DOLL
ESSAY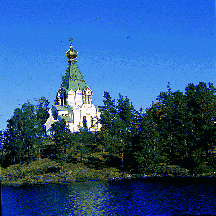 The Monastery on the island of Valaam.
About 150 miles northeast of St. Petersburg
.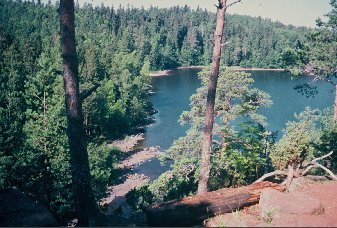 View from Valaam to the shoreline of Lake Ladoga.
I thought the area looked a great deal like Lake Tahoe, where I lived for ten years. I felt right at home! Valaam is
a lovely place, with very little noise and hustle and bustle.
In the archipelago of 50 islands at the northern end of Europe's largest lake, Ladoga, sits the island of Valaam. Around 100 monks live at Valaam, an island about five miles at its longest and three miles at its shortest.


Valaam is one of Russia's most important religious centers but is also a national park, which allows visitors to view a bit of monastic life.
From St. Petersburg, Valaam is an overnight trip by boat. Tourist season is during the "White Nights" of the north, so views are ever-present.

Throughout its history, Valaam has been fought over among the Russians, Slavs, Swedes, Finns. It was closed during WWII.
The monastery was reopened in 1989 during the 1,000th anniversary celebration of Russia's conversion to Christianity. I visited in 1996.


The monastery and its surrounding sketes (monastic villages) were settled around the mid 10th century. However none of the buildings survived the damages caused by warring factions until around the mid nineteenth century, when the buildings present today were built. Part of the monastery is today occupied by around 400 lay residents, who were first assigned in the 1950s to the place by the Soviet government.


There are no stores, and only a handful of cars. Ships come daily during the tourist season, but in the winter it's a helicopter ride! There is no overnight lodging for tourists on the island. While docked there, tourists must stay on the boats at night.