MUSIC

HOME

ABOUT SASHA

MOSCOW

VALAAM

KIZHI
VOLGA RIVER


AMUR RIVER

ZEYA
VALAAM
NESTING DOLL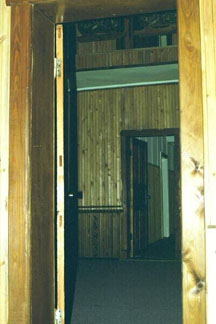 ZEYA HOTEL: The door opens from the kitchen to the lobby, then leads to the door into the hall where my bedroom was. See my bedroom door on the left after brown door. This was the hotel in town which was owned by the power company. Although it was filled in the summer with Russian tourists from the cities, I was the only guest (it was September.) My dining companion was the hotel cat. Below, early morning mist on the Zeiskiy Dam reservoir. It's Fall and we're freezing in an old fishing boat on our way to Snezhnagorsk from Zeya.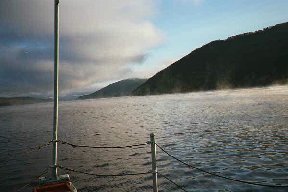 Zeiskiy is a huge reservoir, tenth largest in the world. Power to serve the Amurskaya Region comes from this dam. The area looks like Oregon!
Zeya is a forested gold-mining city in the Russian Far East. It is also famous for its huge dam on the Zeya River which produces power for much of the vast Amur Region.

Zeya is a prosperous town by Russian standards, as it not only has a large operating gold mine, but generates electricity at the Zeiskiy Dam, which is part of a huge electrification project. The Zeiskiy Reservoir was created by the dam on the Zeya River.

We took a small fishing boat from the dam one early morning, and traveled several hours to reach the shores of a small village where we had lunch in a school cafeteria. The village, Snezhnagorsk- Snowy Hill- was accessible from our boat by walking from the water up a steep hill. Getting out of the boat was a scary adventure, since we had to walk down the steep, skinny plank to the sandy shore.

I traveled to Zeya via Alaska, Magadan and Khabarovsk, then on Trans-Siberian RR to Blagoveshchensk on the Amur River. From there, a car took us to Zeya. In Zeya, our group of four visited the gold mine, the dam, the reservoir, a small village along the northeast shore of the lake, picnics on the Zeya River, traveled by TANK to see Chinese pictographs in the Taiga, visited a dairy, communal farms, schools, hospitals, orphanages.

I wrote about my trip on another travel web site when I returned to the US in 1998. You can find more about Zeya, including my photos, here.